Electrical Engineering Department
Ch. Devi Lal State Institute of Engineering & Technology College
Department of
Electrical Engineering
Electrical Engineering Department is one of the major departments, created since the establishment of the institute. The department conducted Undergraduate course (B.Tech.) with an intake of 60 seats alongwith 10% LEET seats for deserving candidates across the Country. With the Institute being raised, the department had been established various laboratories with a large number of equipments/ kits and machines in the various course curriculum and emerging areas of Electrical Engineering.  As a result of the various students had been placed and working in the esteemed organization of the country and across the World also and have by now taken up higher responsibilities. Since last 18 years the department has been very successfully offering the course and facilitates the students to achieve their goal of life with success and hard work alongwith smart with an intake of 60 students in each batch. The present intake for the above programme is 66.  In addition, the department has been conducted various projects at minor and major levels of the Course of Final Year students with idea originated from latest trends and need of the society.
The department has produced a large number of instructional materials both print and non-print for the benefit of faculty and students of the Institution and the society. To mention a few of the important materials, there are manuals of Electrical Machines, Electrical Engineering and many more as per the detail of laboratories mentioned below.There are approximate 1500 books and approximate 300 titles of books related to Electrical Engineering course.
The department faculty is actively involved in research, live/ Industry-Institution Interaction based projects, Industrial Training as well as Industrial visit to explore the Electrical Engineering field as per today's trend and need of the society. On an average about 10-12 such projects are being undertaken every year at minor and major levels of the Course of Final Year students.
Puneet Chawla  Brief Biodata (24 downloads)
Associate Professor
Head (Electrical Engg. Department)
Ch. Devi Lal State Institute of Engg. & Tech.
Panniwala Mota (Sirsa)
Mb. No. +9194167-88602
e-mail Id: [email protected]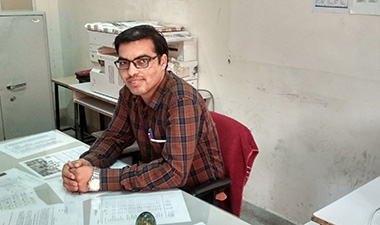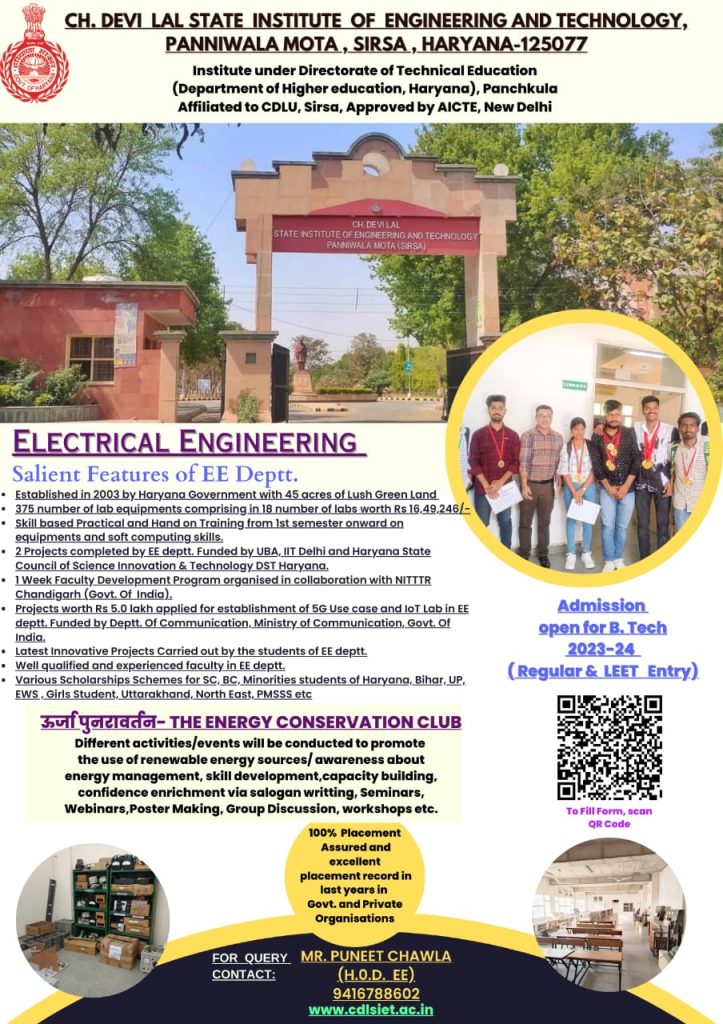 Electrical engineers can also get jobs in non-IT companies such as Universities, Academic Institutions, research, all types of private and public industries, government departments, business organization, commercial organization and many more.
The whole world now depends upon electricity for almost all the processes and activities. No instrument can run without electricity and the usage of power is increasing day- by- day. So, Electrical Engineering will never face a decline in job market. Employment opportunities are endless; one is to keep a track of latest inventions and innovations for developing their skills.
To become a front-runner in bringing out globally competent Electrical Engineering Innovators, researchers and entrepreneurs & thereby contribute value to the knowledge based economy and society.
To achieve excellence and sustainable growth in terms of academics, research & development, curricular, co-curricular and training & consultancy services to fulfill regional, social, national and international requirements.
An engineering program which seamlessly formulate the concept from basic science to technology with relevant practice through laboratories and projects for building the problem solving skills, keeping in view the Industry requirements. Students will develop ability through various opportunities in the areas like Power Systems, Control System, Power Electronics & Drives etc. and serve their professional & civic communities with improvement in their overall ethical and spiritual values.
Program Educational Objectives
(PEOs)
To prepare students with a good foundation in Mathematics, Science & Engineering fundamentals.
To make worthwhile contribution to achieve high ethical and professional conduct in the practice of engineering.
To analyze solution for real life engineering problems
To develop a life long learning attitude in students & help them to pursue higher studies and/or to find entry in industry, professional development activities and other career opportunities.
To inculcate in graduates, the professional attitude, effective communication skills, presentation skills and capability to succeed in diverse fields so that they develop as good team members and leaders.
To prepare the graduates to successfully work in all leading organizations of World with professional competence and ethical administrative skills so as to be able to handle critical states and to hit the target.
Ability to apply knowledge of Mathematics, Science & Engineering to identify, formulate and solve Electrical Engineering problems.
Indentify, formulate, obtain research literature and real-time data from a complex Electrical Engineering problems and its solution focusing the development to the society reaching sustainable results & its implementations using first principles of mathematics and engineering sciences
Ability to function effectively as an individual member or leader in diverse teams and in multi-disciplinary set-ups.
Understanding of professional & ethical responsibility.
Recognition of the need for an ability to engage in life-long learning.
Conduct investigations of complex field oriented electrical engineering problems including design of experiments, analysis and interpretation of data with synthesis of information to provide valid results and future scopes for betterment of society and electrical engineering structure.
Create, select and apply appropriate techniques, resources available and modern engineering techniques including prediction and modeling to complex multi-disciplinary engineering activities with an understanding of the limitations.
Reveal a knowledge and understanding of management and administration practices, such as risk and change environment and understanding their limitations.
Important Link's regarding

details of Lab Equipment in EE Deptt. and Study Material
| Sr. No. | Name | Download | | |
| --- | --- | --- | --- | --- |
| 1 | Electrical Engg. department Lab | Download | | |
| 2 | List of kit's Electrical Engg.  for Govt. model | Download | | |
| 3 | Details of UG Project Supervised in Electrical Engg. Department | Download | | |
| 4 | EDT_Braking of AC Drives | Download | | |
| 5 | EDT_Rotor Resistance Control of 3-Ø Induction Motor Drive | Download | | |
| 6 | EDT_Slip Energy Recovery of an Induction Motor | Download | | |
| 7 | HVDC Power Transmission System- By K.R.Padiyar | Download | | |
Tender/ Quotations for Equipment
Quotation for Power Systems-II Lab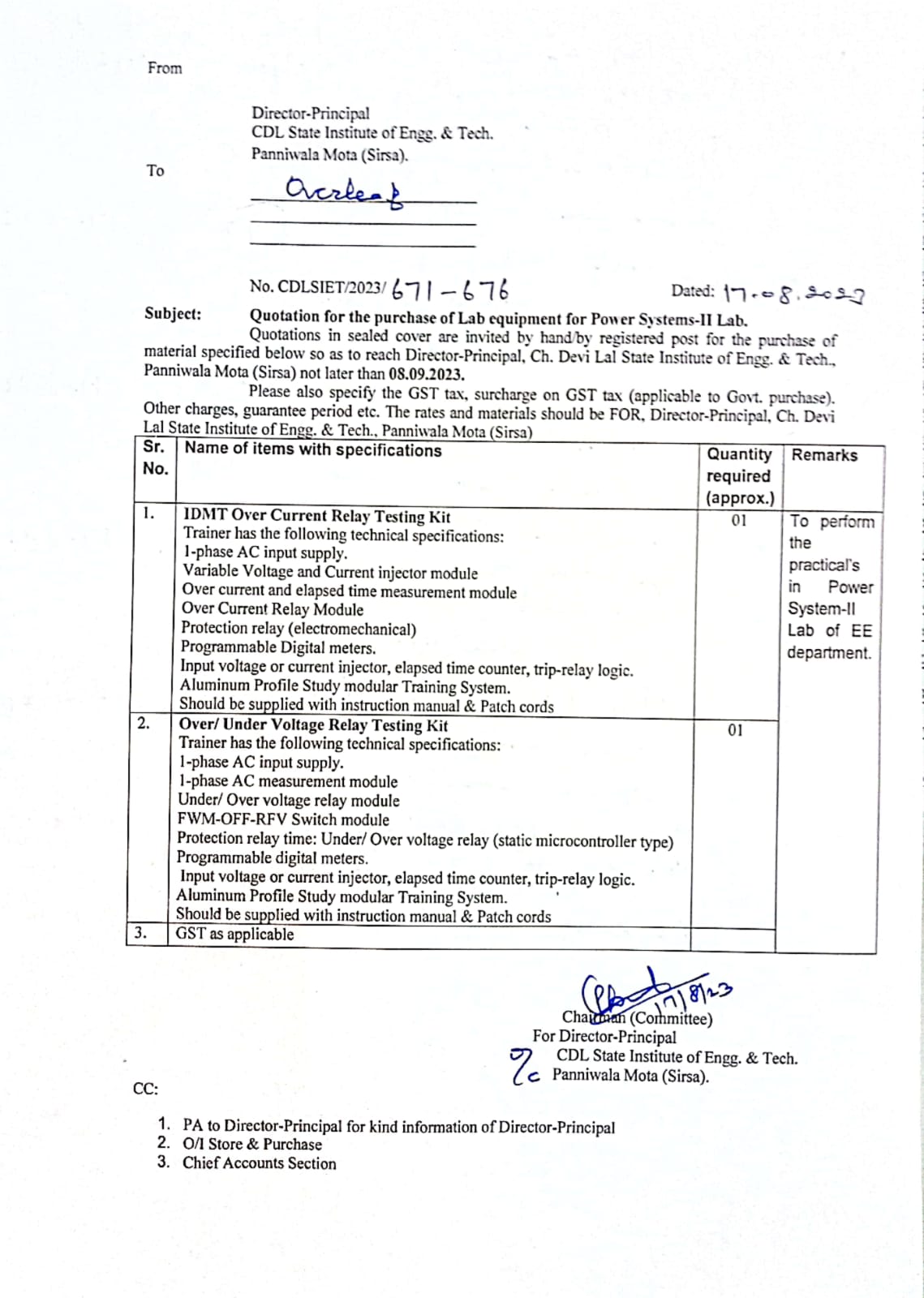 Activities in Department (ऊर्जा पुनरावर्तन – The Energy Conservation Club)
Different activities/ events will be conducted to propagate and promote the use of renewable energy sources/ awareness about energy savings and management via Slogan Writing, Seminars, Webinars, Poster Making, Group Discussion, Extempore, Paper Presentation, Essay Writing Competition, Workshops etc.